Since 1982 PLEA has organised international conferences and events across the globe. This page provides access to details of recent conferences and a comprehensive list of all conferences held to date.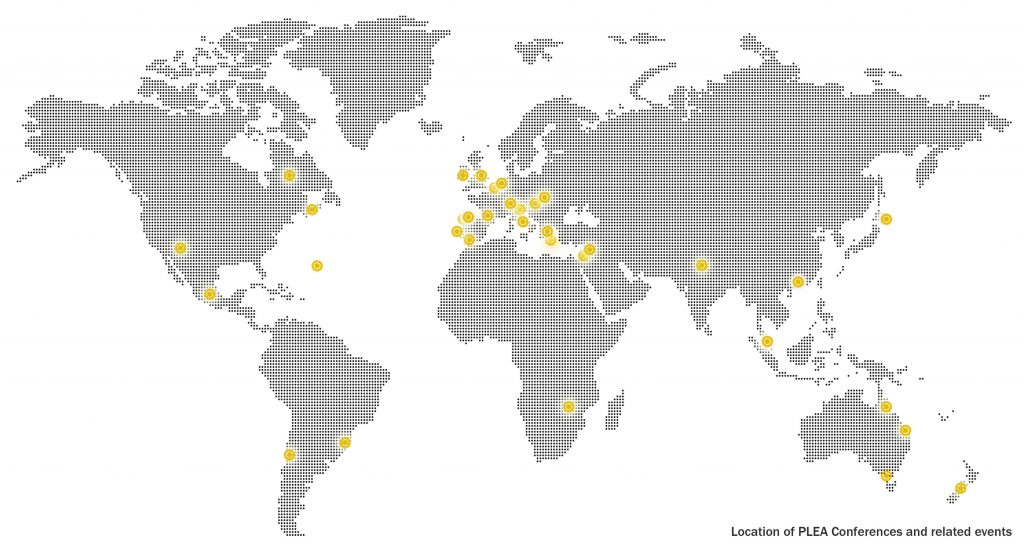 NEXT Conference
2022@Chile
Will cities survive? The future of sustainable buildings and urbanism in the age of emergency.
Starts between the last two weeks of November or the first week of December 2022.
PAST Conferences
2020@A Coruña, Spain
Planning Post Carbon Cities
1-3 September 2020

2018@Hong Kong, China
Smart and Healthy within the 2-degree Limit
10-12 December 2018
2017@Edinburgh, UK
Passive Low Energy Architecture – Design to Thrive
3-5 July 2017
2016@Los Angeles, USA
Cities, Buildings, People: Towards Regenerative Environments
11-13 July 2016
2015@Bologna, Italy
Architecture in (R)evolution
9-11 September 2015
2014@Ahmedabad, India
Sustainable Habitat for Developing Societies
16-18 December 2014
2013@Munich, Germany
Sustainable Architecture for a Renewable Future
10-12 September 2013
2012@Lima, Peru
Towards an Environmentally Responsible Architecture
7-9 November 2012
2011@Louvain-la-Neuve, Belgium
Architecture and Sustainable Development
13-15 July 2011
2009@Québec, Canada
Architecture, Energy and the Occupant's Perspective
22-24 June 2009
2008@Dublin, Ireland
Towards Zero Energy Building
22-24 October 2008
2007@Singapore
Sun, Wind and Architecture
22-24 November 2007
2006@Geneva, Switzerland
Clever Design, Affordable Comfort: A Challenge for Low Energy Architecture and Urban Planning
6-8 September 2006
2005@Beirut, Lebanon
Environmental Sustainability: The Challenge of Awareness in Developing Societies
13-16 November 2005
2004@Eindhoven, The Netherlands
Built Environments and Environmental Buildings
19-22 September 2004
2003@Santiago, Chile
Rethinking Development: Are We Producing a People-oriented Habitat?
9-12 November 2003
2002@Toulouse, France
Design with the Environment
2001@Florianópolis, Brazil
Renewable Energy for a Sustainable Development of the Built Environment
7-9 November 2001
2000@Cambridge, UK
Architecture, City, Environment
2-5 July 2000
1999@Brisbane, Australia
Sustaining the Future: Energy-Ecology-Architecture
1998@Lisbon, Portugal
Environmentally Friendly Cities
1997@Kushiro, Japan
Sustainable Communities and Architecture: Bioclimatic Design in Cold Climates
1996@Louvain-la-Neuve, Belgium
Building and Urban Renewal
1995@New Delhi, India
Sustainability through Climate Responsive Architecture
1994@Dead Sea, Israel
Architecture of the Extremes
1992@Auckland, New Zealand
Architectural Responses to Climate Change
1991@Sevilla, Spain
Architecture and Urban Space
1990@Halifax, Canada
Bioclimatic Design in Architecture and Planning
1989@Nara, Japan
Global Environment and Architecture in the Post-industrial Age
1988@Porto, Portugal
Energy and Buildings for Temperate Climates
1986@Pécs, Hungary
Passive and Low Energy Architecture in Housing
1985@Venice, Italy
Architecture and Regionalism
1984@Mexico
Passive and Low Energy Ecotechniques Applied to Housing
1983@Crete
Passive and Low Energy Architecture
1982@Bermuda
Passive and Low Energy Alternatives
1981@Miami
Meeting to inaugurate PLEA
Other Events
1999: Symposium on Urban Futures, Melbourne, Australia
1995: PLEA Session at ISES Conference, Harare, Zimbabwe
1995: Teachers in Architecture (Co-sponsored with TIA), Firenze, Italy
1993: PLEA Session at ISES Conference, Budapest, Hungary
1993: Solar Energy and Buildings (Co-sponsored with the Academy of Athens & the European Commission), Athens, Greece
1991: PLEA Study Tour, Arizona, USA