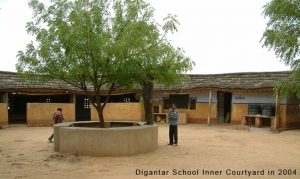 The architect Nimish Patel (1948 -2018) was a highly regarded champion of the value of traditional construction techniques and skills, combining innovation and conservation, to contemporary architecture. At the PLEA Conference in Ahmedabad in 2014 his outstanding contribution was recognised in the PLEA Lifetime Achievement Award. His work epitomises the ethos of PLEA in addressing social, cultural and environmental issues through a synthesis of building form and fabric, responsive to climate and using locally available materials.
Following his training in architecture at CEPT in Ahmedabad and MIT in Cambridge Massachusetts USA, he founded the architecture practice Abhikram with his wife and partner, Parul Zaveri, in 1979. Ambhikram (which means 'initiation' in Sanskrit) always valued traditional construction and skills. The firm's mission is "to explore the design directions and processes which make the built environment functionally, psychologically, environmentally and spiritually, more contextual and more comfortable for all."
The continuity of Indian traditions was central to their numerous projects, while responding to the contemporary context. Well known for his passionate engagement in many conservation projects, Nimish also believed that the services of an architect should be available to everyone, and his work included low cost projects like the Digantar Rural School, as well as high cost projects like the Oberoi Udaivilas Hotel in Udaipur. The practice's work included a number of naturally ventilated and passively cooled educational projects, providing comfort without relying on mechanical conditioning.
Nimish shared his knowledge and experience freely. When I first met him in 1994 he introduced me to the very long tradition of climate responsive architecture in Gujarat, including step-wells, pol-houses and havelis. He opened my eyes to the sophistication of the techniques which moderated the extremes of climate long before the development of mechanical air-conditioning. My respect and admiration for him grew through our collaboration on the Torrent Research Centre in Ahmedabad. This involved the design of passively cooled laboratories and offices for a pharmaceutical research company. He insisted in putting his principles into practice: idealistic, but also intensely pragmatic, rigorous and demanding of those with whom he collaborated.
As much as anything I valued his deep humanity. Over lunch once, when we had been rather earnestly discussing mankind's contribution to climate change, he said; "We want to change the world, but perhaps we should start by changing ourselves". Always direct and honest, his clear thinking informed his projects, and we can all continue to learn from his legacy.
Brian Ford
Former Director and Vice-President of PLEA
Emeritus Professor University of Nottingham, UK.